How Domaine Evremond's vision is becoming a reality
There was a host of headlines when it emerged back in 2015 that the French Champagne House Taittinger was involved in a joint venture to start producing premium sparkling wine made in Kent.
Domaine Evremond – a collaboration between Champagne Taittinger, their UK wine partner and premium wine specialist Hatch Mansfield and private investors – had just acquired a 171-acre fruit farm in Chilham on which to plant vines.
The acquisition, which was negotiated by Strutt & Parker, was a sensation as it marked the first time that a Champagne house had invested with the intention of producing premium sparkling wines made in England.
The land was selected as – like many fruit farms in Kent – it is ideal for growing vines, being lower than 80 metres above sea level, with chalk soil and south-facing slopes. This makes it suitable for growing Chardonnay, Pinot Noir and Pinot Meunier; the three grape varieties used for the traditional Champagne method of producing sparkling wine.
Ed Mansel Lewis, head of Strutt & Parker's Vineyard Group and Domaine Evremond's managing agent, recalls the acquisition was not without its challenges.
'It was a very complicated purchase; not all of the land was suitable for vines, and our client understandably didn't want to buy the north-facing sloped orchards,' he says. 'This meant we had to find a second purchaser to buy this part of the farm, put in place new rights of access and oversee two purchase contracts that had to complete simultaneously.
'The vendors also required leaseback provisions over their productive pear and apple orchards, many of which were the perfect sites for vines. We agreed a shorter leaseback period on the older orchards, so Domaine Evremond could plant vineyards on those prime plots sooner.'
However, securing the land was the start of what is proving to be an exciting journey for all of the investors – who are family and friends, as well as business partners. Pierre-Emmanuel Taittinger, president of Champagne Taittinger at the time, and Patrick McGrath, managing director of Hatch Mansfield, have known one another for many years and Hatch Mansfield are the sole distributor of Champagne throughout the UK. Domaine Evremond was their brainchild and the first step was to find the right land to bring their dream to fruition.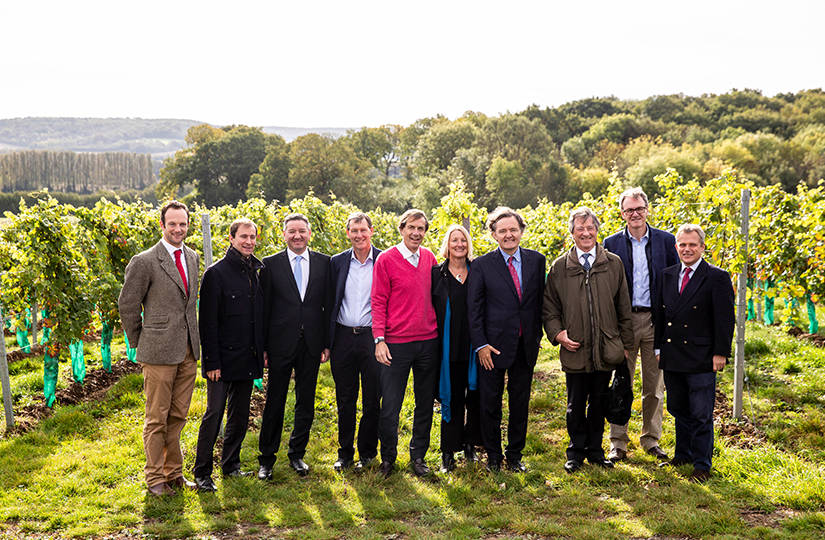 So how is the Domaine Evremond business developing?
The first plantings of vines took place in 2017, with a further 20 acres of vines planted in May 2019. It is anticipated that Domaine Evremond's first wines will be released in 2024.
Following completion of the acquisition, Strutt & Parker was fortunate to be retained as managing agent. Our planning department has also been involved in developing plans for a winery and visitor centre.
Craig Noel, a director in the Development & Planning department, has been instrumental in the planning strategy for a two-floor winery building and visitor centre designed to meet the needs of the wine-making process, whilst limiting its impact within the surrounding landscape, which is within the Kent Downs Area of Outstanding Natural Beauty, so an area receiving higher levels of planning protection.
Two-thirds of the building will be below ground and this allows a natural gravity-led winemaking process which protects the quality of the wine. The underground nature of part of the building provides conditions which will perfectly mimic those in Champagne, where sparkling wine is matured in cellars established in the chalk landscape. The design also includes a grassland roof, with a white, brick façade that matches the chalk subsoil of the region. There are also plans to incorporate a visitor centre, positioned within the building to give the best views over the vines and wider landscape, giving visitors a full appreciation of this natural environment.
Consent was given for this carefully considered project in July 2020. As plans for the winery developed, the business was keen to secure further land close to the site to fulfil its winemaking aspirations, ideally with a view of vines in all different directions from the winery. 'We made approaches to the neighbouring landowners and, parcel by parcel, began to piece together suitable land to complement the existing estate,' says Mansel Lewis.
Business background
The name Domaine Evremond is taken from Charles de Saint-Evremond (1614-1703), a Frenchman and the first true ambassador for Champagne, who fuelled its popularity in England during the court of King Charles II. Evremond was a poet, epicurean and literary critic, and is the only Frenchman to be buried in Poets' Corner in Westminster Abbey. As a passionate historian, Pierre-Emmanuel wanted to name this new company in Evremond's memory.
The vineyard is also approximately six miles from Canterbury, which Pierre-Emmanuel's father, Jean Taittinger, twinned with Reims over 45 years ago when he was the Mayor of Reims (1959-1977).
Domaine Evremond's estate now extends to over 250 acres, of which about two-thirds is planted with vines, and it continues to seek out further parcels matching its exacting criteria to grow fruit which can ultimately make top-quality sparkling wine. Strutt & Parker is constantly looking for land suitable for vines, using bespoke vineyard mapping software that has enabled it to become market leaders in this highly specialised sector.
Reflecting on the journey since the vineyard was bought in 2015, Pierre-Emmanuel says from the beginning, the project has been about friendship.
'We had dreamt for a number of years of working with our dear friends in the UK to create a special Franco/British project. Built on the values of friendship, this venture creates something special to show our appreciation of the UK's support for Champagne – it is Champagne Taittinger's number one export market. We are very excited that this dream is now becoming a reality.
'For us, it has been a pleasure to work with our friends in Strutt & Parker. They are passionate about the vision we have for Domaine Evremond and work hard to help us achieve it.'
Find out more about Strutt & Parker's work in the viticulture sector.