The question of how to make carbon farming more financially viable for farmers and landowners has been puzzling policymakers for some time.
The Committee on Climate Change (CCC) has recommended that to meet the net zero target, 22% of land needs to be released out of traditional agricultural production into long-term carbon sequestration – recognising a range of market mechanisms will be required to stimulate anything near that level of land use change.
Schemes that allow landowners to generate new revenue streams through carbon farming are, however, starting to emerge.
Public funding is already available to incentivise woodland creation and peatland restoration, and Defra is working on plans for the Environmental Land Management (ELM) scheme which will reward farmers for implementing a range of environmental options, some of which could involve carbon sequestration.
There is also an expectation that private investment in environmental measures that help to mitigate climate change will become an increasingly significant market.
Current examples of private sector carbon buyers in the UK include high street retail chains, national transport operators and infrastructure developers and there are also some international initiatives emerging that give an indication of the direction of travel.
While there are currently only a handful of ways for UK farmers and landowners to earn money directly from generating carbon credits, it is a market which is expected to develop relatively rapidly.
What are carbon credits worth?
The prices currently being paid for carbon credits are highly variable and the market is changing rapidly.
There is currently a trend for European buyers to buy a mix of credits – low cost ones at £1-5/tC02e from restoration and planting projects in the developing world and much higher value ones at £25-30/ tC02e from European projects, so they feel they have contributed locally.
Over time, we expect the price to increase significantly to at least £70 /tC02e, which is the level many scientists say is needed to reduce global climate change.
Ways to generate income from carbon farming include:
1. Carbon credits from woodland and forestry
The £50m Woodland Carbon Guarantee Scheme was introduced in England in 2019 to accelerate woodland creation by developing the domestic market for woodland carbon.
The scheme pays landowners who create new woodland for the carbon credits they generate over a 35-year period. The price paid is established through a reverse auction process.
To be eligible, woodlands must be registered with the Woodland Carbon Code (WCC) which provides a British standard for woodland projects and the carbon sequestered in them.
There have been three rounds of the Woodland Carbon Guarantee scheme to date. The first auction was held Jan/Feb 2020 and 18 contracts were offered for the creation of a total of 182 hectares of new woodland. The average price paid was £24.11/tC02e.
The second auction was held in June 2020 when 27 contracts were offered for the creation of 1,517 hectares of new woodland, with the average price paid being £19.71/tC02e. The third auction was held between 26 October – 1 November.
Carbon credits can be sold on the open market. The price is unfixed and can vary widely – they are currently trading at £10-25/tC02e.
John Clegg & Co, Strutt & Parker's forestry arm, can act as a project developer for the Woodland Carbon Code.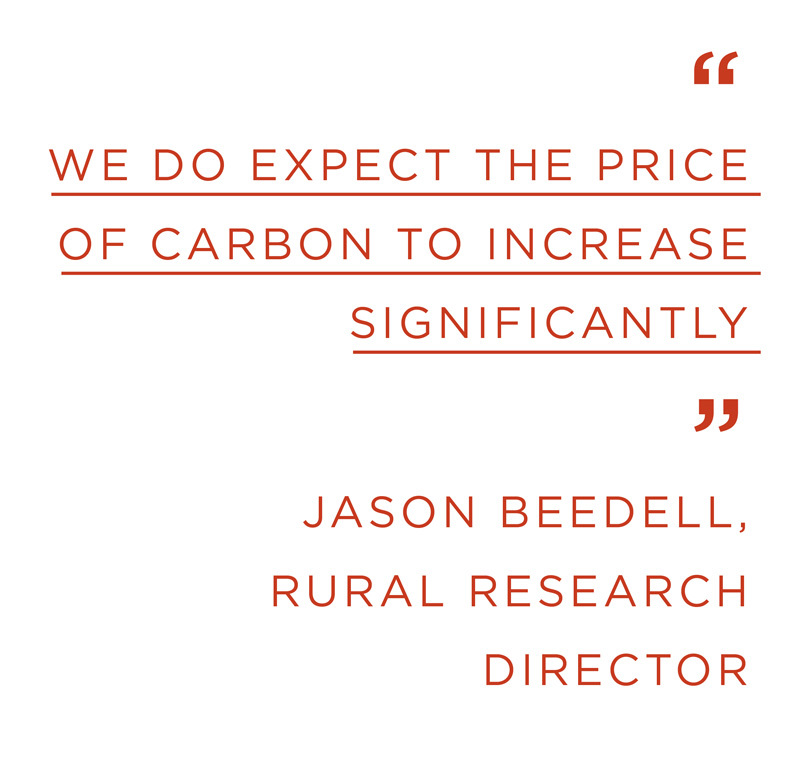 2. Carbon credits from peatland restoration
Peatland is set to play an increasingly prominent role in tackling climate change because in healthy condition it is among the most carbon-rich ecosystems on earth.
Healthy peatlands are effective carbon sinks because they capture carbon dioxide from the atmosphere through photosynthesis, which is then locked up long term because the plant does not fully decompose in the waterlogged conditions.
About 12% of UK land area is estimated to be peatland, but much of this is currently in a degraded state because of historic and current management practices.
According to the UK Centre for Ecology and Hydrology, peatlands are currently a net source of greenhouse gas emissions because of the way they have been managed. A significant barrier to peatland restoration is financial, with current public funding being both limited and competitive.
The Peatland Code is a certification scheme for UK peatland projects wanting to generate a new income stream by selling the carbon benefits that will result from restoration.
A public register of all Peatland Code projects is online, allowing companies seeking to mitigate their own carbon emissions to purchase them.
The funding received from the sale of carbon credits will depend on the extent of damage prior to restoration, the size of the project and the length of the management agreement.
Peatland restoration also brings wider ecosystem service benefits such as greater biodiversity, cleaner water and reduced flood risk, which can be another unique selling point for a project.
Peatland carbon credits are currently trading from £7/tC02e to highs of £14/tC02e.
3. Environmental Land Management (ELM) scheme
The Environmental Land Management (ELM) scheme, which Defra hopes to roll out nationally in 2024, is still in development, so details are limited.
The scheme is founded on the principle of public money for public goods and one of the public goods that farmers will be rewarded for is the 'mitigation of and adaption to climate change'.
Defra has outlined that the ELM scheme is likely to be a three-level scheme with the top level (landscape recovery) focused on paying for land-use change projects that will make a substantial contribution to its net zero target such as tree planting, woodland improvement, peatland restoration and creation of coastal habitats.
Eligibility for such funding is likely to be project specific, with payments determined through negotiated agreement, rather than offering set payment rates.
In Wales, the aim is to introduce a Sustainable Farming Scheme where farmers will be rewarded for environmental outcomes not paid for by the market, such as better air quality, reducing carbon emissions and improving soil quality.
Plans in Scotland are less developed, but its post-Brexit policy is expected to see a shift in payments away from production towards environmental outcomes. Scotland already has a proven track record in terms of tree planting, accounting for the majority of new plantings in recent years because of a more effective policy framework.
4. Attracting private sector investment
This could be an exciting area with blue-chip companies already exploring opportunities to work with landowners to reduce carbon emissions and secure better environmental outcomes.
Unilever recently announced that its brands will collectively invest €1 billion in a new dedicated Climate & Nature Fund, which will fund landscape restoration, reforestation, carbon sequestration, wildlife protection and water preservation projects.
It builds on projects that are already underway, such as Ben & Jerry's initiative to reduce emissions from dairy farms. Since 2015 the ice-cream company has been paying a self-imposed internal tax of $10 per metric ton of carbon it produces which it then uses to work with farmers to develop and implement carbon reducing strategies.
This internal rate has been dwarfed by some property developers who are charging themselves £60 – 95/tC02e, which is much closer to the likely price of carbon in the near future.
Scotland-based craft beer and bar business BrewDog is going beyond carbon neutrality, becoming one of the first businesses to be carbon negative across all parts of its business.
Since August 2020 it has now removed twice as much carbon from the atmosphere than it emits by driving down emissions in its own supply chain and engaging with carbon removal projects.
It has recently bought 830ha of land in the Scottish Highlands just north of Loch Lomond, which is currently used as grazing land, to create its own BrewDog Forest to lock up carbon.
It plans to create 600ha of broadleaf native woodlands with the Woodland Carbon Code accreditation programme and is also dedicating 220ha to peatland restoration. In addition to woodland creation and peatland restoration, the company is planning to create a sustainable BrewDog campsite at the forest and run sustainability retreats and workshops.
5. Using carbon as marketing tool
A handful of food manufacturers, including Quaker and Walkers, experimented with including the carbon footprint of their products on packaging in the late 2000s, but this was phased out due to lack of interest.
However, market research company Kantar now points to growing evidence that consumers are making food and drink choices to support the environment.
A 2019 YouGov study of more than 9,000 consumers, across the USA, UK, Italy, Canada, Spain, the Netherlands and Sweden, found that 66% of consumers said they would feel more positive about companies that can demonstrate they are making efforts to reduce the carbon footprint of their products.
This is prompting a number of businesses – both large and small – to seek a marketing advantage by advertising the low carbon credentials of their products.
In 2020, the Arbikie distillery, based on the East Coast of Scotland, announced it had created a 'climate positive' gin, with a carbon footprint of -1.54 kg CO2e per 700ml bottle. The product has a lower carbon footprint than traditional gin by using peas, which require no inorganic fertiliser, as its base. Suffolk-based brewer Adnams has also been selling a carbon neutral draught beer for more than a decade.
At the moment, plant-based food manufacturers are leading the way in terms of trying to add value by promoting their products as climate friendly. Quorn, which makes meat alternatives, now publishes 'Farm to Shop' carbon footprint data, certified by the Carbon Trust, for its top 30 selling products.
This article is part of our Land Business Insights "Piecing together the rural carbon jigsaw"publication.
Jason Beedell
Director, Research
Head Office, London